Telangana 29th state
Rayalseema 30th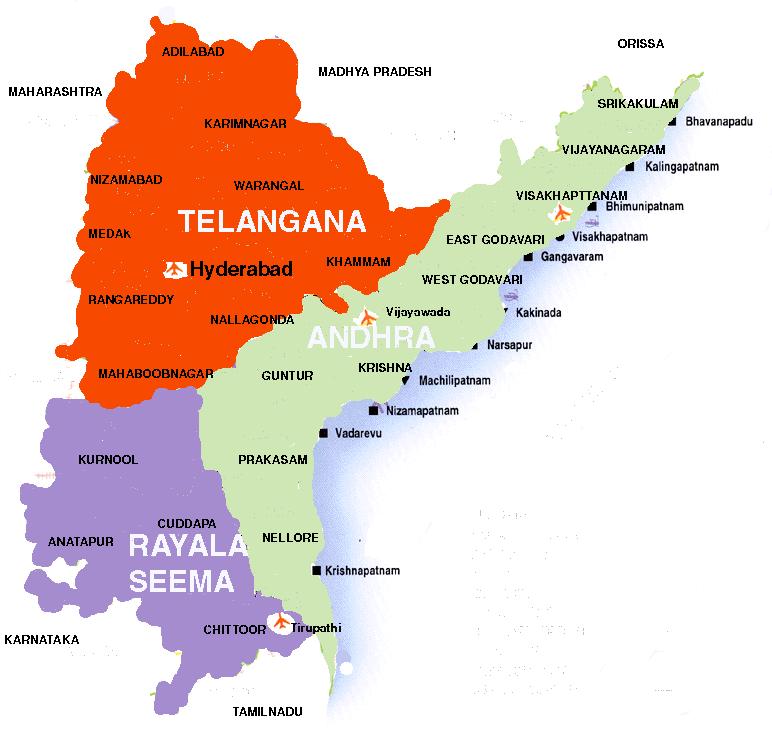 Bundelkhand 31st
Harit Pradesh 32nd
Vidarbha 33rd
Poorvanchal 34th...
How many states, darn it you want man!... isn't it enough?????
No idea, why it was a sad reaction when i came to know about the separation nod announced by P. Chidambaram. I could see many of my colleagues from AP disappointed, now some of them belong to AP some from telangana and probably in a few days some from rayalseema.
I have heard of all this outcry many a times. being from Bihar, i remember what the hell happened over Jharkhand and Bihar issue. feel this all sh*t happens due to these B*ll Sh*t , bloody Politicians. Apparently they can sell anybody just for money and all in the name of public interest. Any way that's a separate issue.
"Andhra Pradesh should not be divided but if you are dividing it, form Greater Rayalaseema alongside Telangana and make coastal Andhra a separate state,"

93 legislators and many MPs, cutting across party lines, resigned to protest the central government's decision

The move found backing from other parties, including from the principal opposition, the Bharatiya Janata Party (BJP).

[ No surprise, in fact it was in their rule when Jharkhand, chattisgarh and uttarakhand were created]

"

Telangana is a region that lies on the Deccan Plateau to the west of the Eastern Ghats range, and includes the northwestern interior districts of Warangal, Adilabad, Khammam, Mahbubnagar, Nalgonda, Rangareddi, Karimnagar, Nizamabad, Medak, and Andhra Pradesh capital, Hyderabad. The Krishna and Godavari rivers flow through the region from west to east.

The quest for a separate Telangana state has been on since 1956, and was intensified after 1969.

" -Topnews.in
AP-Telangana-Rayalseema (seems possible, if few MPs sit for another hunger strike). Also there will be definite rise in hunger strikes and similar kind of Pseudo- gandhi Stuffs from Bundelkhand, gorkhaland, harit pradesh and many more. And 'No surprises' if in near future, demand for separate Nation arise. Hyderabad remains in doldrums. Some leaders from parties have proposed to declare Hyderabad a Union Territory. Darn it man! Are you people out of your mind...
P
S: On the flip side read about Telangana here at
Wiki Link
and stats
here
Source for the image :
Top News Dot in
and TOI & definitely google
Entire thing is highly opinionated, may be an outburst
any difference of opinion is welcome